& Beautiful Bouquets!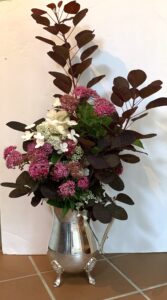 The Members of the Annisquam Sewing Circle will be at the Annisquam Farmers' Market again with Gourmet Baked Goods and Beautiful Bouquets!
Friday, August 6, 2021 from 9:00 to Noon
Last time it rained and the wind blew. Even with the non-cooperative weather all the baked goods were gone by 11! Come early for the best selection.
Beautiful Bouquets of flowers from the Magnificent Gardens of Annisquam will be available again- sweet, little arrangements, arrangements for a center piece on your dining table and larger bouquets – all in interesting containers.