7th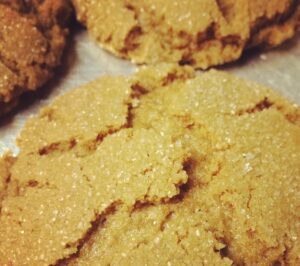 Century A.D. – The earliest cookie-style cakes are thought to date back to 7th century Persia A.D. (now Iran), one of the first countries to cultivate sugar (luxurious cakes and pastries in large and small versions were well known in the Persian empire).  According to historians, sugar originated either in the lowlands of Bengal or elsewhere in Southeast Asia.  Sugar spread to Persia and then to the Eastern Mediterranean.  With the Muslim invasion of Spain, then the Crusades and the developing spice trade, the cooking techniques and ingredients of Arabia spread into Northern Europe.
Cookies as we know them in America were originally brought to the United States by our English, Scottish, and Dutch immigrants. Earlier names for cookies such as Snickerdoodles and Cry Babies originated with the New England states. Even with its early history, cookies did not become popular until about a hundred years ago.
From: What's Cooking America- History of Cookies
Cry Baby Cookies
epicurious.com – recipes – /cry-babies
These molasses cookies are a family tradition. Frost with buttercream frosting in the color of your choice when just warm enough to melt the frosting; if you frost them too soon the frosting will run.