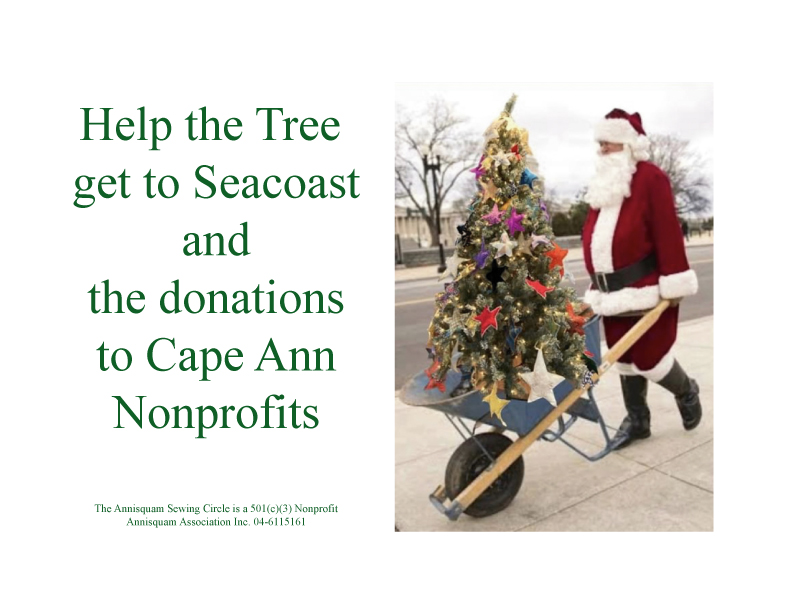 Is it too early to talk about Christmas?
It is not too early for the Members of the Annisquam Sewing Circle to be working on projects to be offered at the Annual ASC Christmas Fair, December 3, 2022, 8:00 – 12:00, in the newly renovated Village Hall, 36 Leonard Street, 01930, in the center of the Village.
There will be:
A new design for the much sought-after, Annisquam Ornament the Needles Group are being creating
Beautiful wreaths and other holiday greens
Handcrafted gifts
Delicious Gourmet foods
And more… Stay tuned!
The proceeds from the ASC funding raising events are donated to the Cape Ann community and to Annisquam graduating seniors going on to further educational opportunities.
The Sale was a great success!
The Annisquam Sewing Circle was invited to participate in the Annisquam Farmers' Market again this year. We are grateful to Bud Ris of the AFM, and his crew for making that possible.
We are also very grateful for all of you who purchased the wonderful baked goods and the many beautiful bouquets created by the members of the ASC for you.
The Annisquam Sewing Circle will be back Friday, August 12, 9:00 – noon with another Gourmet Food Sale. Mark your calendar. See you there!
All the proceeds from Annisquam Sewing Circle events are returned to the community in the form of donations to Cape Ann nonprofits including the Village Hall Association that is responsible for the maintenance of the Village Hall, the Leonard School,  and the Fire House. These three building are home to many of the Village organizations. In addition, scholarships are awarded to Annisquam graduating seniors who are furthering their education.