Information for items for the Gourmet Table: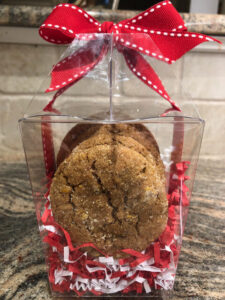 We will be passing around the sign-up sheet for the gourmet table at Tuesday's meeting. The categories that we are looking to fill are-
Cakes and Pies

Breads

Cookies and Bars

Jams, Jellies and Sauces

Novelties (candy, crackers, dog treats, etc.)



We are really hoping to have a wide variety of items to offer. People are often looking for something special to use as a hostess gift or to serve to guests. Festive packaging helps things sell. Last year the jams and jellies were a big hit and as usual, specialty cakes and pies. 
Please remember that things should be packaged securely in a way that the item is visible. Everything must be clearly labeled stating what it is, whether or not it contains nuts and whether it is gluten free. I will have some packaging materials available during prep week if anyone needs them. 
All items should be delivered by noon on Friday of prep week to allow us time for pricing. 
If you are not able to attend the meeting on Tuesday, please let me know what you plan to make and I will add you to the sign-up sheet.
Thank you in advance for all your efforts. I look forward to seeing your creative creations!

2023