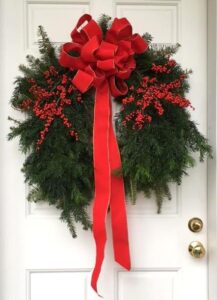 This will be a different holiday season for all of us. As the New Year approaches we are looking forward to new experiences, new friends, new opportunities to reach out and help our families, friends and neighbors while cherishing our past, our families, long-time friends and memories.
The Annisquam Sewing Circle held a very successful Christmas Fair within the membership as well as our faithful wreath customers despite 'social distancing' and the concerns for our community. The funds raised will go to Cape Ann's wonderful charitable organizations as they struggle to keep up with the requirements of the residents.
Thank you for your support! If you would like to be alerted when the next ASC event will take place, please send an email to FriendsOfASC@gmail.com. As a Thank You Gift, you will receive a favorite ASC recipe.