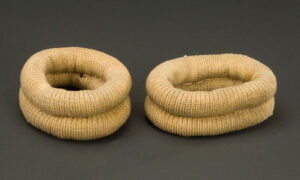 Earlier members of the Annisquam Sewing Circle knit nippers like this pair.
Fishermen working trawl lines in the 19th century often suffered cuts and rope burns on their hands. They typically wore mittens or gloves to protect themselves when hauling the long lines aboard and removing the fish. These sturdy but soft rings, called nippers, are knitted of woolen yarn and stuffed with more wool. They would have fit around a fisherman's palms, protecting his hands while his fingers remained free for tasks requiring dexterity.
These nippers were probably made in Gloucester, Mass., for use by local fishermen working on offshore schooners. The shallow, fertile banks stretching from Georges Bank east of Nantucket to the Grand Bank off Newfoundland, Canada, were prime fishing areas for Gloucestermen. Cod, haddock, and halibut were the principal species caught by fishermen working aboard schooners in these waters in the late 19th century.
These nippers were among the fishermen's clothing, tools, and apparatus featured by the United States in the 1883 International Fisheries Exhibition in London.
ID Number:

AG*102074

Place Made:

Gloucester, Massachusetts

Material:

woolen

Date:

1880s
Dimensions:
5 in x 3.365 x 1.7717; 12.7mm x 85 x 45 mm
Source:
U.S. Fish Commission